Across the nation
The energy and passion from Northwestern's hunger strike reverberated across many college campuses across the nation. Messages of support poured in from across the country. Universities that sent messages of solidarity or organized action in support of the demands at Northwestern included DePaul University, University of Illinois in Chicago, Notre Dame, University of Chicago, Columbia University, Brown University, Harvard, University of Pennsylvania, University of Maryland, Cornell, University of Wisconsin, and Stanford.
Professor Jinah Kim, now a professor at the Asian American Studies Program, was herself involved in the hunger strikes as an undergraduate in Columbia University. Here, she shares her experiences.
But that was not all. Students at more and more universities began advocating for ethnic studies and refused to yield to the conservative statism of their administrations. For the first time, they began to take action to make their case and voices heard. Following Northwestern's steps, Princeton students organized a sit-in and protest for Asian American and Latino Studies during April 20th to 21st, before Northwestern's hunger strike had even ended.
A year after Northwestern's hunger strike in April 1996, as the student population at Columbia University in New York grew more diverse, four Columbia students pitched a tent in the middle of campus and began a hunger strike, demanding the establishment of an ethnic studies department.
Beyond the strike
The hunger strikers of 1995 scored a minor victory with the four promised Asian American classes. However, progress from there happened at a slow pace. In May 1996, Northwestern faculty voted to add an Asian American studies program to the curriculum but only chose to make it a small cluster of interdisciplinary courses rather than an academic minor and major. After the 1995 strike, it would take four years and more intense lobbying in order for the Asian American Studies Program to be finally established at Northwestern in 1999 as a minor in WCAS with two core faculty members.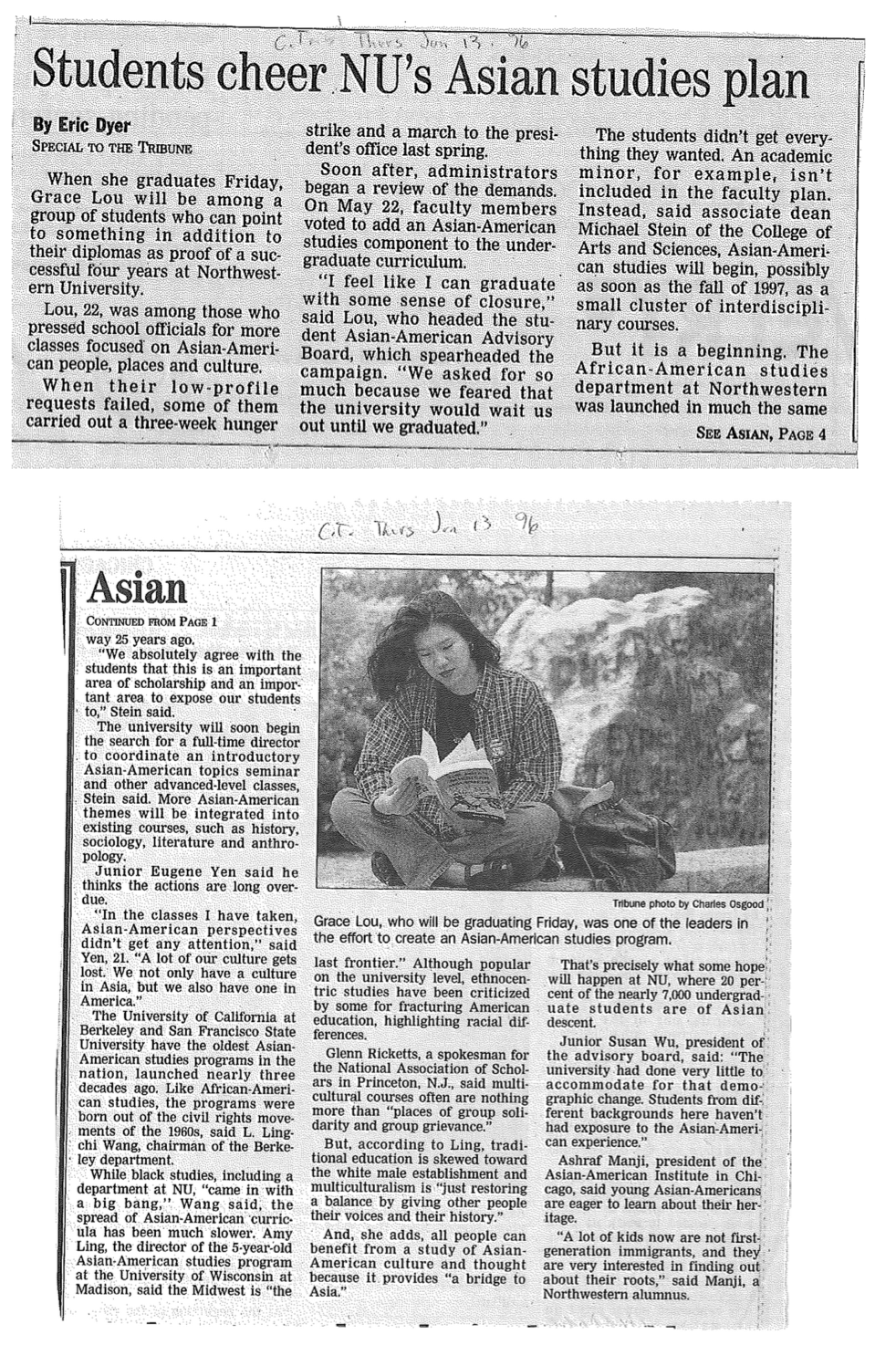 In June 2001, the first AAS minor graduates were Tammy Leung and Vishal Vaid. None of the original hunger strikers ever got to take courses under this academic minor but as seen in this Daily Northwestern article, their actions had influenced later generations personally and profoundly.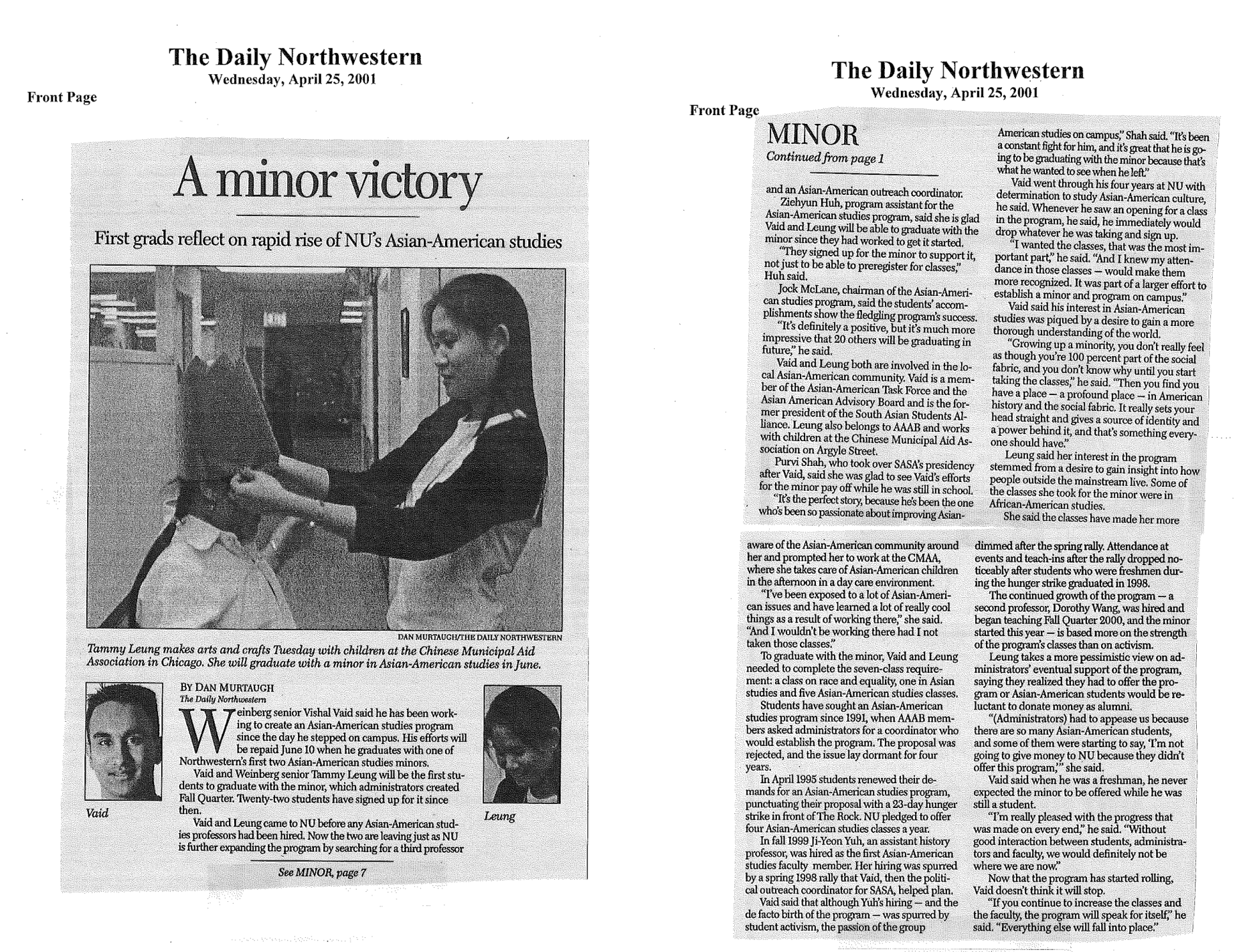 We are not revolutionaries. We are not a bunch of rabble-rousing loose cannons. We are students. Students who ask for nothing more than a right to learn. AAAB in a statement quoted by the Chicago Tribune on April 24, 1996
Since then, the program has grown to consist of four core faculty as well as postdoctoral fellows, graduate students and lecturers. Together, they now offer more than 20 courses on various topics such as Asian American History; Asian/Black Relations; Asian American Literature; Asian American Rebels in Popular Culture; Race and the Prison Industrial Complex; Asian American Civil Rights; Race and Globalization; Asian American Religions; Bollywood and Beyond; Asians in Cinema; Topics in Vietnamese America; Race and Linguistics; Asian American Masculinities and Femininities and more.
In this video, Prof. Kim speaks about the impact Asian American Studies has had on her students as well as on her professional career.
The hunger strike was not just asking for the establishment of a curriculum. The hunger strikers were also asking for the university's recognition of their culture and their ethnic group on campus. By building strong relationships with student leaders outside the Asian American community, students were able to build and lead this multicultural coalition to protest for diversity on behalf of the AAAB and the Asian American community.
Noting that the Asian-American students had received support from white, black, and hispanic classmates and student organizations, Jennifer Taniguchi, one of the original hunger strikers, said, "The struggle is to make the administration responsive to the concerns of all students." Therefore, the strike serves as an example of great cross-cultural collaboration on a scale not oft seen on this campus, although student leaders of cultural groups recognize the merits of working together.
In 2012, a group of Northwestern students started the Asian NU Project in order to bring together Northwestern's Asian community and to empower students to be proud of their identities. Many students in this project revisited the Asian American hunger strikes in 1995, seeing themselves as part of a long lineage of such student activism almost a decade ago.